Starting today, the best of the best in Beach Volleyball will visit Spanish Banks beach, just outside the Kitsilano neighbourhood of Vancouver, BC. Players divided by age groups from across the country will be starting at 8:00 am and playing non-stop until Sunday at 11:00 am.  The digs, spikes and dives are sure to get the crowds pumped up with excitement.
This particular beach hosts a daily attendance of recreational players from either VolleyballBC or Urban Rec.  These organizations do a great job and promoting this amazing sport. It's become a local spot for many locals to enjoy the beautiful scenery, compete in some friendly volleyball and often at times, you can see mini bar-b-ques steaming off on the sides.  

Beach volleyball in this neighbourhood has  become almost as popular as the LuLuLemon athletic wear, which started just down the street from the beach.
The spring and summer season in Kitsilano draws a large amount of residents to visit these majestic beaches. The weekends are jam-packed with sun tanners, runners and beach enthusiasts.  Whether it be volleyball, frisbee, bocce, basketball, tennis or  Vancouver Water Adventures, there's definitely something for everyone to enjoy. Vancouver Water Adventures offers a great new addition to Kits Beach as the rise of paddle boarding has soared to new heights.  This water sport is great for your core and so much fun to do.  For the cost of $20.00/hour you are sure to have an amazing time and workout.
New to this year was the introduction of Vancouver Beach Nuts, an island-esq. Coconut stand that "get's the people going." (Kanye)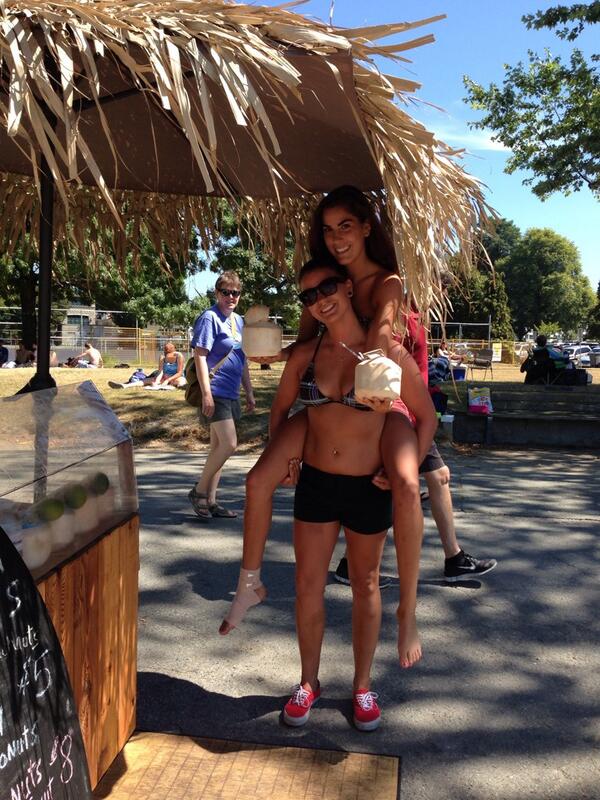 This neighbourhood loves its volleyball so much that this is the 2nd major tournament in less than 3 weeks. The last big tournament in this neighbourhood was held on August 9-11, 2013 at Kits Beach for an event called KitsFest. KitsFest has a great deal to offer the community as it celebrated its 5th year.  Sponsors from local businesses were surrounding the playing area to provide product knowledge, athletic assistance or promotional offers.  The booth that seemed to draw the most attention for the event was along what appeared to be known as "medical row,"  was called Armitage & Associates. This booth was the most prepared for this event and really helped the athletes in their competition.  On one corner of the booth there was a registered massage therapist named Paige Allen, who offered free massage treatment for 15 minute intervals. In the opposite corner, 2 sports chiropractic doctors were applying Kinesiology tape to basketball and volleyball players.  After speaking with Dr. Robert Armitage, I learned that the Kinesiology tape allows athletes to be more cognisant of their body parts during active play. The tape is meant to be more of a learning tool than a healing tool. Dr. Robert Armitage and Dr. Anthony McDougall seemed to thoroughly enjoy helping as many athletes as possible, prepare for their competitive play.  In addition to applying the "Kin-tape" to athletes of all ages, Dr. McDougall was also conducting a brief assessment for selected athletes using a "Functional Movement Screen." Dr. McDougall had an assist enter measurement tools into an iPhone App, which was then emailed to the examined athlete.
Believe it or not, this booth still had 2 more offering in last remained corners. On one side was a space for people speak with the volunteer staff and enjoy a complimentary bottle of water, while the other side offered even more treatment. Another therapist name Christina Longo (who I've come to learn was sharing the 'Armitage' booth and although affiliates herself with the business, does not work out of their office). Christina is a personal trainer that offers an additional service call Fascial Stretch Therapy. I had the pleasure of experiencing this service and have to admit, it felt amazing. The stretching techniques that Christina went through appeared to help with mobility and circulation. Next to this booth was a company called SportMedBC, and they provided visitors with product knowledge that could help with injuries and healing.  Along the side of the KitsFest courts you'd find sponsors such as Car2Go, BasketballBC, the All Ball Academy (who was recently featured on Breakfast Television), a face painting stand and of course food and beverage areas. This reporter visited every stand at the event, but spent most of my time getting pampered and treated at the Sports Chiropractic booth.
This weekend I'll be spending most of my time watching the incredibly talented athletes compete in the 2013 Beach national volleyball tournament at Spanish Banks. If you can find the time to visit, you won't be disappointed.  The schedule for the different age ranges can be seen at VolleyBall.Ca  Be
Be sure to bring your camera as the scene at Spanish Banks is very picture worthy. I've taken a few pics over the past few months and have since posted on my wall as I absolutely love the scenery.
« 5th Annual KitsFest returns to Kits Beach "Bike-Burglar" caught in Vancouver »